About Us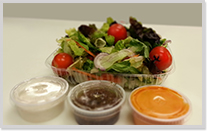 Serrelli's Finer Foods - Feeding Chicago Since 1934
Serrelli's Finer Foods began as a father-and-son specialty shop in 1934, where they began making their signature Italian roast beef sandwiches. In the depths of the Great Depression, sandwiches were an inexpensive way to stretch food budgets, so Serrelli's became a popular staple of the local neighborhood.
Once the recipes were perfected, they became Serrelli's calling card and have remained the same for more than 80 years. So you know when you come in, you're tasting the same delicious recipes that your parents and grandparents enjoyed!
We are proud to be one of Chicago's oldest family-owned and operated businesses, and we can't wait to meet you!
Call today to order one of our famous Italian roast beef sandwiches!